Information about data safety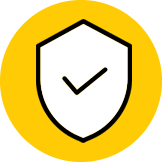 We take data protection very seriously. Therefore, you and your child can download the JusProg parental control and install and use it continously without registering and without the need to provide personal data.
JusProg software updates the filter list on your computer once a day. This is downloaded from the server of our partner Cybits AG with its server located in Germany. No personal data will be saved while updating the list.
When installing the software, you are asked wether you agree to the anonymously transmitted information about the websites used. You can agree (place a tick mark) or refuse (not place a tick mark): in both cases the JusProg parental control is fully usable. However, if you agree, you contribute to improving the JusProg filter quality and indirectly also ensure a higher level of protection of your child because the pages used with the software are checked afterwards by our human Netagents and automated spidering. If your child accidentally or intentionally accessed a webpage that was not age-appropriate, then this site may already be blocked at the next visit. The anonymous information about your surf protocols are stored with us without any personal data, not even your IP address. The statistics are immediately cumulated with the data of different users, so in hindside no personal surf profile can be created, even theoretically.
The JusProg Child Protect app for Android smartphones, which is offered together with Vodafone works, due to the lower processing power and limited memory capabilities of mobile devices, slightly differently from the JusProg parental control for Windows computers. While surfing the requested internet address (URL) is the JusProg server (server location: Germany) is requested every time a new web page. The domain is transmitted together with an indication of age: in this manner it is tested wether the website is age-appropriate. In so doing no personal information is transmitted. Transmission of the IP address is technically unavoidable, but these will not be saved. Statistics about the webpages are created completely anonymously and immediately combined with queries from other users, so that even in hindsight no personal surf profile more can be created.
More information about us