Label Generator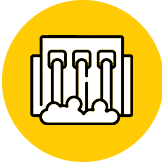 In Europe there is a technical standard for a youth protection label for age classification of websites. The age.xml / age-de.xml label is backed by the MIRACLE project co-financed by the European Union and officially established by the criteria for parental control programs by the Commission for Youth Media Protection in Germany (KJM). An integration of these labels is useful. JusProg has age.xml and age-de.xml labels already incorporated into its filtering software.
Many large to small website operators have already installed an age-de.xml label, including almost all German private TV broadcaster from RTL to Pro7 and Sky, many gaming portals, Youtube, bild.de, spiegel.tv to mention only some of many examples, and also almost all federal media authorities, several other government websites and all self-regulation bodies in Germany.
In Germany the age-de.xml label for website providers is mandatory, for those who want to protect minors from the contents of their website according to Art. 11 JMStV. The age.xml file applies internationally. Our label generator creates both files at the same time – it's best to download both files to your webserver (plus the miracle.xml file).
Does your entire site contain similar content and is it thus for the same age group (the label is done in a few minutes)? Or do you want individual age classification for individual pages on your website (somewhat more complex, but quite possible)? Both cases are supported by our free label generator.
The labels are simple XML files that you upload to the top level of your webserver (public directory, where the robots.txt is located).
To the Label Generator
More information about us